About Noah
Noah is inspired by the intrinsic beauty of his materials. His compositions are based largely on the form and coloration of metals, primarily steel. Despite the psycho-sexual suggestion of many of the pieces, Savett emphasizes the paradoxical nature of his chosen material. Steel is both plastic and rigid, creating objects of a certain permanence. Most metals can be mass-produced but start out liquid; it seems natural to Savett to bring that liquid or plastic quality into fabricated sculpture. This isn't a language spoken by many sculptors of steel.
Savett's sculptures develop out of his prolific drawings; he produces close to five hundred thumbnail sketches a year, of which fifty of so are developed into more resolved drawings; of these, 5 to 10 might become sculptures. "They're involved. They're serious efforts, complicated pieces to make. It takes twenty-five pages of written and drawn notes for a piece approximately six feet ... to do this, I have to stay focused." Noah spends 16 to 20 hours per week on his art, resulting in a total of two to three sculptures a year. "When I'm actually making the piece, when it's taking on three-dimensional life, I think of titles that are apropos." Rarely representational, the pieces are nevertheless often humorous or whimsical. Influenced by the sculpture of Smith, Tingueley, and Oldenburg, as well as the metalwork of Gaudi, Noah strives to create works that are "visually challenging and exciting to anyone who sees them."
Noah's work is shown at both group and solo exhibitions; his pieces are also on loan and part of private collections. His sculpture has been describe as "weirdly beautiful" and "fascinating"; his style as "solid, tough, and emotionally moving." Describing his work, Savett says "It's my passion. It's like inventing. It's a creative process I love."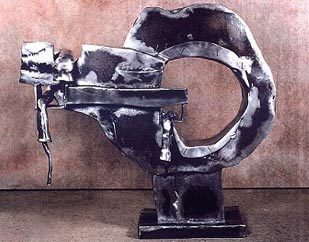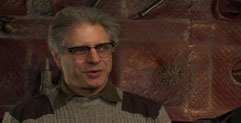 WATCH an interview with Noah Savett